Welcome to the Dixie Olds Club homepage
The Dixie Olds Club is a chapter of the Oldsmobile Club of America.
Dixie Olds is the place to find Oldsmobile owners in Georgia.
We hold our meetings in various locations. To check out where our next meeting is click on the 'Our Next Meeting' tab.
So if you are interested in Oldsmobiles and would like to know more about the club please contact us.
Dixie Olds Club
Celebrating over 25 Years of Oldsmobile's in the South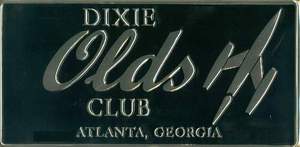 You can email the club at the link below.
Please, we do not deal in parts or cars for sale and we can not appraise your car. So please do not send us emails related to these items as we will not respond.
The Oldsmobile Club of America website can be reached by clicking on the link below.